ZO® Skin Health
The office of Dr. Mark Walker is pleased to announce that in addition to the ZO® Skin Health Line, we are now offering the new line of skin care products ZO® MEDICAL by Zein Obagi, MD.
Under the guidance of Dr. Zein Obagi, ZO Skin Health, Inc. has developed a wide spectrum of therapeutic treatment protocols and daily skincare solutions that create and maintain healthy skin. Based on the latest advances in skin therapy technologies – unique delivery systems, bio-engineered complexes, and exclusive formulations – these products and protocols help physicians provide continuous skin health for all skin types, genders, and ages.
Innovative Science for Healthy Skin
ZO Skin Health, Inc. identified new bio-engineered complexes and utilized plant stem cell components with antioxidants to create unique formulations in multi-therapy delivery systems that have not been available until now.
ZO Skin Health Circle
With the introduction of these new, comprehensive and continuous solutions – therapeutic, maintenance, daily skincare, and protection – the new world of skin health is waiting for you with ZO® products and protocols.
Therapeutic

– Treatments provided by healthcare professionals using prescribed products and unique protocols to correct medical skin conditions

Maintenance

– Designed to prevent reoccurrence of persistent skin problems and keep skin healthy and youthful looking

Daily Skincare

– Effective solutions for cleansing, activating, stimulating, calming, nourishing, and protecting skin

Protection

– Minimized UV exposure reduces photo damage and improves overall skin health
To learn more about the specific products offered, please see the comprehensive list of ZO® products we offer below or set up a time for a skin health consultation by calling (607) 729-5085 or by filling in the form on this page.
ZO® Medical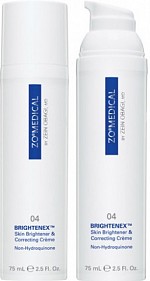 Brightenex™
Bioengineered to target all three stages of skin discoloration through a patented, bio-vectored, microsphere delivery system. It is formulated to even skin color and tone, and recommended as a first course in treating hyperpigmentation.
Synergistic Retinol Formulation
A blend of potent retinol (1.0%), melanin inhibitors and antioxidants are released to rapidly brighten and even skin tone quality. Additionally, this comprehensive multi-action formulation minimizes skin redness caused by environmental factors and helps maintain an even and restored skin tone.
BRIGHTENEX™ Multi-Action System
Dual pigmentation reversal with vitamin A and ascorbic acid-2 glucoside
Bio-active levels of vitamins E and C, and stachys officinalis antioxidants
Multistage glutathione, soy isoflavones, and N-acetyl glucosamine melanin inhibitor system
Retinol (1.0%) microencapsulation in an oleosomes delivery system
---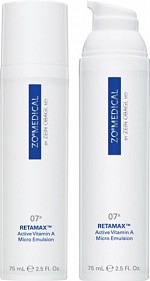 Retamax™
Utilizing an innovative micro emulsion technology, this potent retinol (1.0%), blended with plant stem cell antioxidants and bio-mimetic proteins, helps reverse the signs of aging and aids in the prevention of future damage.
Stimulating Collagen Formation and Skin Barrier Function
RETAMAX™ aids in skin rejuvenation by triggering the natural formation of collagen and encouraging the restoration of the skin barrier function by up-regulating the production of hyaluronic acid, the skin's most vital natural hydrating factor.
Antioxidant Response
This biocellular antioxidant system serves to block free-radical damage, helps protect vulnerable cellular DNA, and addresses the root cause initiators of future skin aging. Optimizing inflammation management and anti-glycation irritation, RETAMAX™ helps ensure maintenance of the new, healthy skin state by defending against inflammatory-initiated skin damage.
RETAMAX™ Micro Emulsion System
High-potency vitamin A stimulates the skin's natural rebuilding process
Antioxidant and anti-inflammatory action with vitamins C and E, and buddleja plant stem cells
Biomimetic protein activation for skin regeneration
Micro emulsion technology supports rapid delivery of key ingredients
---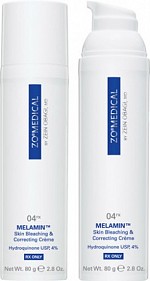 Melamin™
Skin Bleaching & Correcting Crème
Hydroquinone USP, 4%
Only available though a physician. Prescription only.
A highly effective Rx solution to lighten hyperpigmentation with 4% hydroquinone. Recommended following use of BRIGHTENEX.™ This formulation alters the essential subcellular metabolic processes that cause cytolysis. It inhibits melanin production to even skin color and tone.
4% hydroquinone acts as a gradual bleaching agent
Reduces the appearance of chloasma, melasma, freckles, and sun damage
Vitamin E helps repair damaged skin cells
---

Hydrafirm™
Eye Brightening Repair Crème
This breakthrough multi-function formula is designed to both correct and prevent multiple signs of aging on the delicate skin of the eyes. Active Vitamin A and biomimetic proteins encourage natural collagen production to help restore skin's elasticity. Enzymatic vasodilators, caffeine and coenzyme A rapidly reduce puffiness. Skin's appearance is instantly firmed and smoothed.
Optical diffusers immediately help reverse the appearance of dark circles
Antioxidant retinol diminishes the look of fine lines and wrinkles
Shea butter restores suppleness, increases moisturization and replenishes skin barrier
---

Invisapeel™
Intensive Resurfacing Peel
This formulation uses an enzymatic process to renew the epidermis, leaving skin noticeably smoother, firmer and brighter.
Provides enhanced exfoliation of the epidermis without any apparent flaking or peeling
Specialized enzymes accelerate the reduction of the appearance of discoloration, rough texture and dehydrated skin
Skin is able to receive benefits from additional ZO

®

Medical products
---

Liprebuild™
Advanced Therapy Lip Treatment
Bioengineered to reverse and restore severely dry, cracked and wrinkled lips using a clinically proven moisture recycling technology. Increases microcirculation to plump lips, improving overall shape, size and contour while restoring lips to their natural rosy color.
Powerful antioxidants help defend lips from continued exposure to the environment
Soothes lips with a cooling complex
For use with or without lip color
---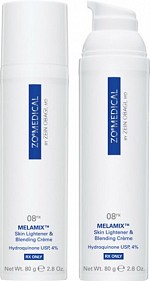 Melamix™
Skin Lightener & Blending Crème
Hydroquinone USP, 4%
A 4% hydroquinone bleaching cream penetrates the skin and effectively delivers the active ingredients of the system to the melanocytes. It alters the essential subcellular metabolic processes that cause cytolysis and inhibit melanin production.
4% hydroquinone acts as a gradual bleaching agent
Reduces the appearance of chloasma, melasma, and freckles
Optimizes delivery of active ingredients
---

Oilacleanse™
Cleanser for Normal to Oily Skin
Dual-action cleanser exfoliates and cleanses skin targeting excess oil. Removes oil and other impurities to clean the skin and clear acne.
Reduces the factors that contribute to skin inflammation
Helps decrease the level of bacteria on skin surface
Promotes exfoliation
---

Normacleanse™
Cleanser for Normal to Dry Skin
Its advanced surfactant gently removes impurities and oil, and prepares the skin to receive therapeutic treatments. This unique formulation gently cleans and conditions the skin.
Highly advanced surfactant matrix removes impurities
Peptide and collagen-boosting complex helps firm the skin
Moisturizing complex nourishes and calms the skin
---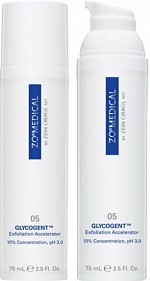 Glycogent™
Exfoliation Accelerator
An innovative exfoliation accelerator engineered to help reduce inflammation and prevent future damage. Its aggressive protocol enhances mitosis and helps correct skin discoloration.
Potent glycolic and lactic acid complex provides skin surface renewal
Anti-inflammatory properties help minimize the appearance of irritated skin
Proven antioxidants help prevent future skin damage
---

Balatone™
Calming Toner pH Balancer
This unique toner optimizes the penetration of therapeutic treatments by removing impurities and balancing the pH of weak skin. It invigorates dry, sensitive and irritated skin with its proprietary technology.
Unique combination of solvents, astringents, and exfoliants thoroughly clears and cleanses the skin
Exclusive blend of conditioners, moisturizers, and hydrators soothes treated skin
Gentle cooling action adds comfort to reduce irritation
---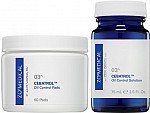 Cebatrol™
Oil Control Pads
An invigorating acne medication to treat and prevent outbreaks. Its proven exfoliants effectively remove dead skin cells. These pads also contain an emollient complex to soothe skin and reduce redness.
2% salicylic acid for a maximum-strength acne medication
Mandelic acid helps reduce inflammatory agents that cause irritation
Triclosan provides additional antibacterial benefits
---
ZO® Skin Health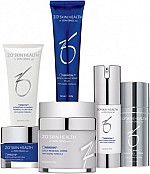 Agressive Anti-Aging Skincare Program
Condition: Aging Skin
Definite signs of aging skin–wrinkles, brown patches, skin laxity, large pores, significant sun damage.
Aggressive Anti-Aging Skincare Program
This Aggressive Anti-Aging Skincare Program delivers the highest concentrations of retinol, helping patients with aging and photo- damaged skin to radically reduce wrinkles, hyperpigmentation, fine lines, rough texture, and sagging skin.
Offects

®

Hydrating Cleanser (1.5 oz.)
Offects

®

Exfoliating Polish (0.5 oz.)
Ossential

®

Daily Power Defense (1.0 oz.)
Ommerse

®

Renewal Crème (1.7 oz.)
Ossential

®

Radical Night Repair Plus (1.0 oz.)
Oclipse

®

Sunscreen + Primer SPF 30 (0.5 oz.)
---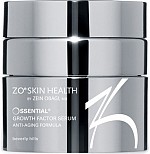 ---

---

---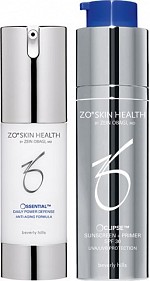 SUNsmart

No matter what time of year or where you live, you must protect your skin everyday to prevent premature aging. These two powerhouse antiaging formulas by Zein Obagi, M.D. are designed to work together, offering maximum protection from the damaging effects of sun exposure and environmental pollutants and irritants.
OSSENTIAL® DAILY POWER DEFENSE
Retinol, enzymes and antioxidants help repair damaged cells and protect against future damage. It encourages cellular activity to aid in skin cell rejuvenation.
OCLIPSE® SUNSCREEN + PRIMER SPF 30
Using titanium dioxide and zinc oxide-two physical sunscreens-this sunscreen provides full spectrum UV protection. Melanin, nature's best protectant, works to neutralize free radicals generated by sunlight. A tint and a silky matte finish help the sunscreen reduce the appearance of skin imperfections and create the perfect primer for make-up application.
---